Paul Glasse
Artist Profile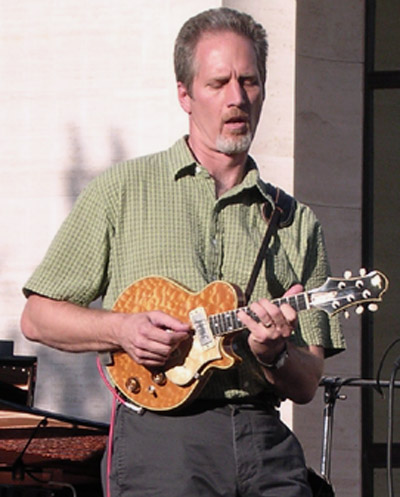 Growing up in Poughkeepsie, NY, a young Paul Glasse was introduced to the unusual acoustic draw of the mandolin. Though as an adolescent he cut his teeth on Bluegrass, Old Timey, and New England Traditional Music, it was the Siren of Texas Swing that would lure him to Austin, Texas in 1977. Under the tutelage of the great electric mandolinist, Tiny Moore (Bob Wills and the Texas Playboys) Glasse immersed himself in the vocabulary and vibe of Texas Swing. Known for its quick-pulsed tempo and unusual blend of early Country and Western fused with the jazz harmony of late 30's Benny Goodman/Charlie Christian swing, this indigenous art would be the unique and central core of his musical identity.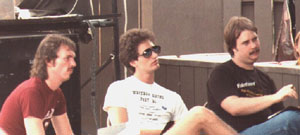 A youthful Paul Glasse, 1981 Buck White International Mandolin Championship winner(middle), pictured between 1982 winner Nashville recording artist Mark O'Connor (left) and 1980 winner Bobby Clark (right).
A decade-long success championing mandolin contests in the late 80s would hone his technical picking prowess and morph his interest into the rapid-fire compendium of Bebop jazz. A fondness for a short, recognizable "head," followed by blazing improvisation became the signature sound of Glasse, and his compositional skills.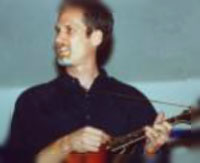 Permanently rooted in the promiscuously vibrant Austin musical scene, Glasse' regular appearances at local performances have become of the many treasures of this town's nightlife. Known internationally for its cadre of talented players and musical originality, Austin with it's notably raw brilliance has all the musical attraction and potential of Nashville, sans the gloss. Though he has toured with such notables as Lyle Lovett, it's the incubating environment of this musical homebase that defines the originality and sensibilities of his music.
Paul furthered his traditional education through his coursework in the University of Texas, where he filled the Big Band guitar slot with his 5-string electric mandolin. Michael Stevens, former Senior Design Engineer of the Fender Custom Shop, introduced a special signature Paul Glasse Model Mandolin.


Pictured above, the lower blonder one is Paul's current personal electric mandolin. He also owns the original darker sunburst prototype that Michael made in 1982. Barry Mitterhoff (Hot Tuna) borrowed this for some touring before his own "Paul Glasse Model" was completed. These mandolins are played by, Aubrey Haynie, Tom Rozum, and Don Stiernberg among others.

---

Two albums grace his discography, and lately, a compilation double CD re-release of these (with bonus tracks!) record this magnificent ground-breaking music for posterity and of course, serious aural study for the aspiring jazz mandolinist.




Hear a sample from his CD: Air Mail Special



For CD Purchase information: contact

Kudos:

1st place 1981 Buck White International Mandolin Championship Kerville, Texas


Winner Professional Mandolinist division Shriner Central Texas Pick-off.


1st Place 1987East Texas Mandolin Championship


1st Place 1989 Walnut Valley (Winfield) Mandolin Championship


Multiple appearances on Austin City Limits including as a featured performer with his own group


Inductee Texas Western Swing Hall of Fame


Featured on an NPR All Things Considered profile/interview with Noah Adams


Awarded a six month apprenticeship with Johnny Gimble as part of Texas Folklife Resources "Master/Apprentice" program


Custom Builder Michael Stevens "Paul Glasse Model" electric mandolin


Endorsee, D'addairo Strings


National Association of Jazz Educators citation for "outstanding musicianship."
Featured on voluminous projects with artists such as Tiny Moore, Johnny Gimble, Mark O'Connor, Jethro Burns, Mike Marshall, Tony Trishka, Jerry Douglas, Howard Levy, Peter Rowan, Lyle Lovett, Willie Nelson, Eldon Shamblin, Allison Krause, Keely Willis, Mary Chapin Carpenter, Shawn Colvin, Michelle Shocked, Laurie Lewis, Riders in the Sky, Asleep at the Wheel, and many others.
Artist Contact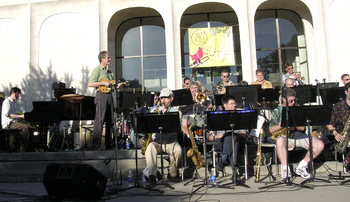 Guest Soloist with the Nebraska Jazz Orchestra in the 2006 Jazz in June Series.